Five Natural Solutions to Treat Anxiety in Dog
Unfortunately, anxiety is a common occurrence in many dogs around the world. Sometimes, this condition can prevent your pooch from enjoying the everyday activities such as walking and playing that they used to adore.
Luckily, there are several natural remedies that you can use to relieve your dog's anxiety.
Because these remedies are natural, you don't have to worry about the dosing of these products in the same way that you would with a pharmaceutical solution.
The reason that we are recommending these products is that benzodiazepine medications and other common drugs used to treat anxiety in dogs can contain toxic chemicals. The side-effects produced by these drugs can be detrimental to your dogs physical and mental wellbeing.
CBD products have many powerful healing properties for both dogs and humans. CBD infused treats and oils can help to put an end to any anxiety that your dog may be experiencing.
CBD heals this via the natural endocannabinoid system. Your dog's central nervous system is packed with cannabinoid receptors, which are triggered to release levels of Serotonin—a natural mood stabilizing hormone. Existing research has shown that CBD can interact with the CNS to alleviate your pup's anxiety.
Many pet owners will place a few droplets of CBD oil in their dog's food to start medicating them naturally. After repeated daily doses, many dog owners have reported significantly decreased levels of anxiety in their pets.
A recent study conducted by the American Holistic Veterinary Medical Association demonstrated in fact how from a 61.8% to a 95% of the owners of domestic animals reported benefits for the health of their animals after CBD treatments, in case of pain, problems of the nervous system, inflammations, anxiety, vomiting, problems of the digestive system, tumours, convulsions, skin problems and phobias, like for example those related to fireworks.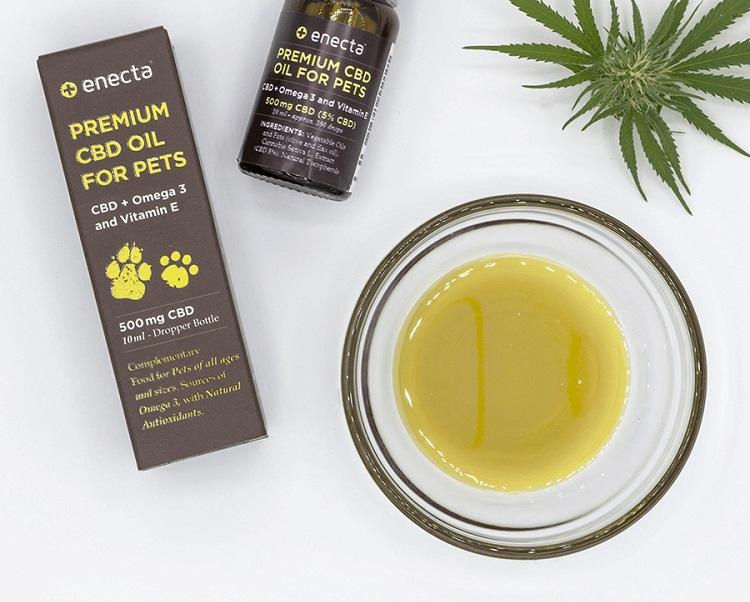 Other than cannabidiol, let's see four more natural ways that we coud use.
Essential Oils:
Dogs can be susceptible when it comes to smells, so stick to safe essential oils such as Violet Leaf and Lavender. These oils can bring about a state of calm and relaxation once diffused into the air around your dog.
Herbs:
Herbs such as chamomile can offer fantastic therapeutic benefits to your dog. Chamomile can act as a powerful sedative and helps to soothe your dog's stomach at the same time. You'll be able to purchase herbal remedies that include chamomile at your local health store. Add a few drops to your dog's water and monitor their progress accordingly.
Background Noise
Sometimes, background noise like radio, podcasts, or television can have a soothing effect on dogs that suffer from separation anxiety. If your dog is scared of being alone, the presence of voices or music can offer comfort when you are not at home.
Exercise
Most dog behaviorists will tell you that exercise is beneficial in treating anxiety in dogs.
If you are heading out for a long time, make sure that you give your dog an ample amount of exercise beforehand. You'll be thankful when you see that your dog is in a much better mood than usual when you arrive home.