The cosmetic revolution starts with CBD
A complete range of CBD cosmetic products,
to enjoy all the benefits of Cannabis on your skin.
All the benefits of CBD in five innovative products of the highest quality, designed for a Cannabis-based beauty routine.
Already adopted by millions of people, CBD's extensive dermocosmetic properties are now well-known all
over the world.


CBD is an extremely innovative molecule extracted from Cannabis sativa L. which benefits for skin health
are backed by scientific studies. It has proved to be an outstanding antioxidant [1], anti-inflammatory and a
sebum regulator [3-4 ], helping prevent dermal aging and skin diseases [2].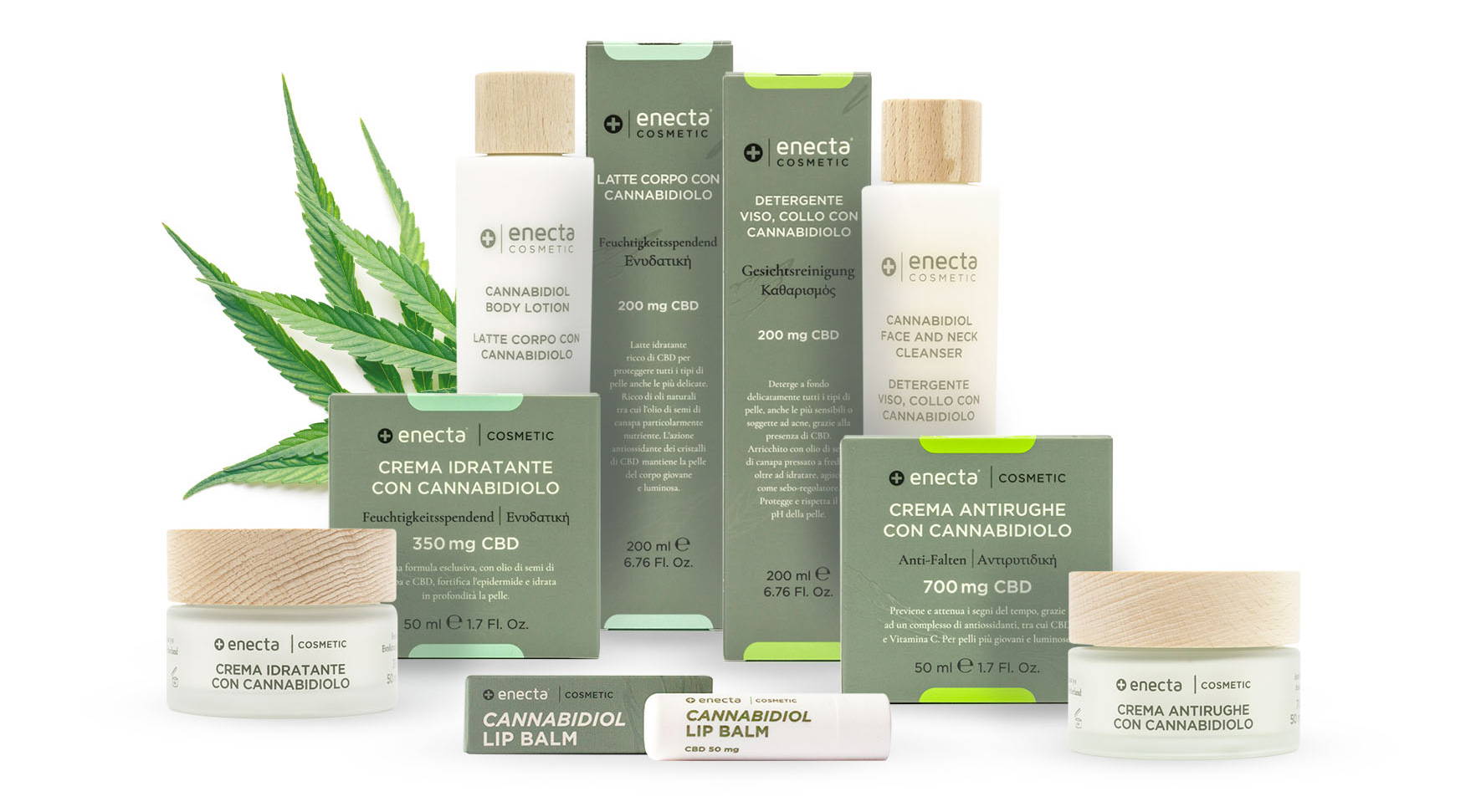 ---
Enecta is pleased to present the exclusive

CBD-based cosmetics

line


entirely Made in Italy.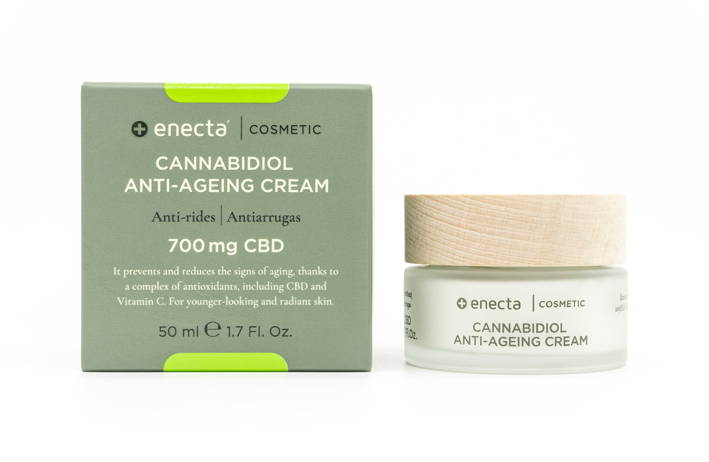 Daily protection for a healthy, young-looking skin.
Antiageing cream with 700 mg of CBD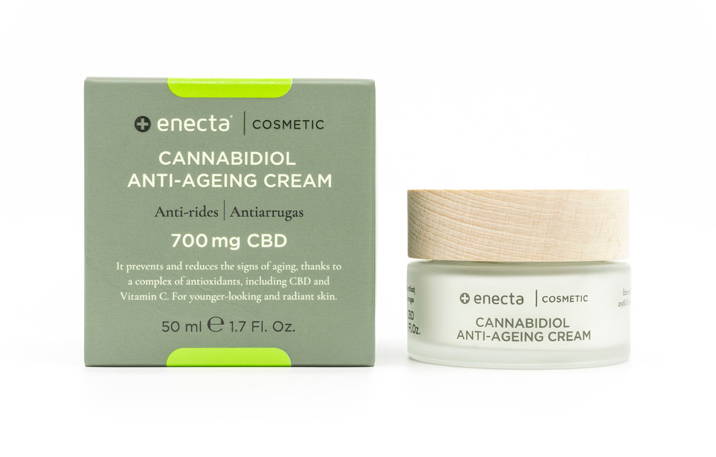 Prevents and reduces the signs of aging, thanks to its complex of strong antioxidants, including CBD and Vitamin C. For a healthy, glowing and younger-looking skin.

---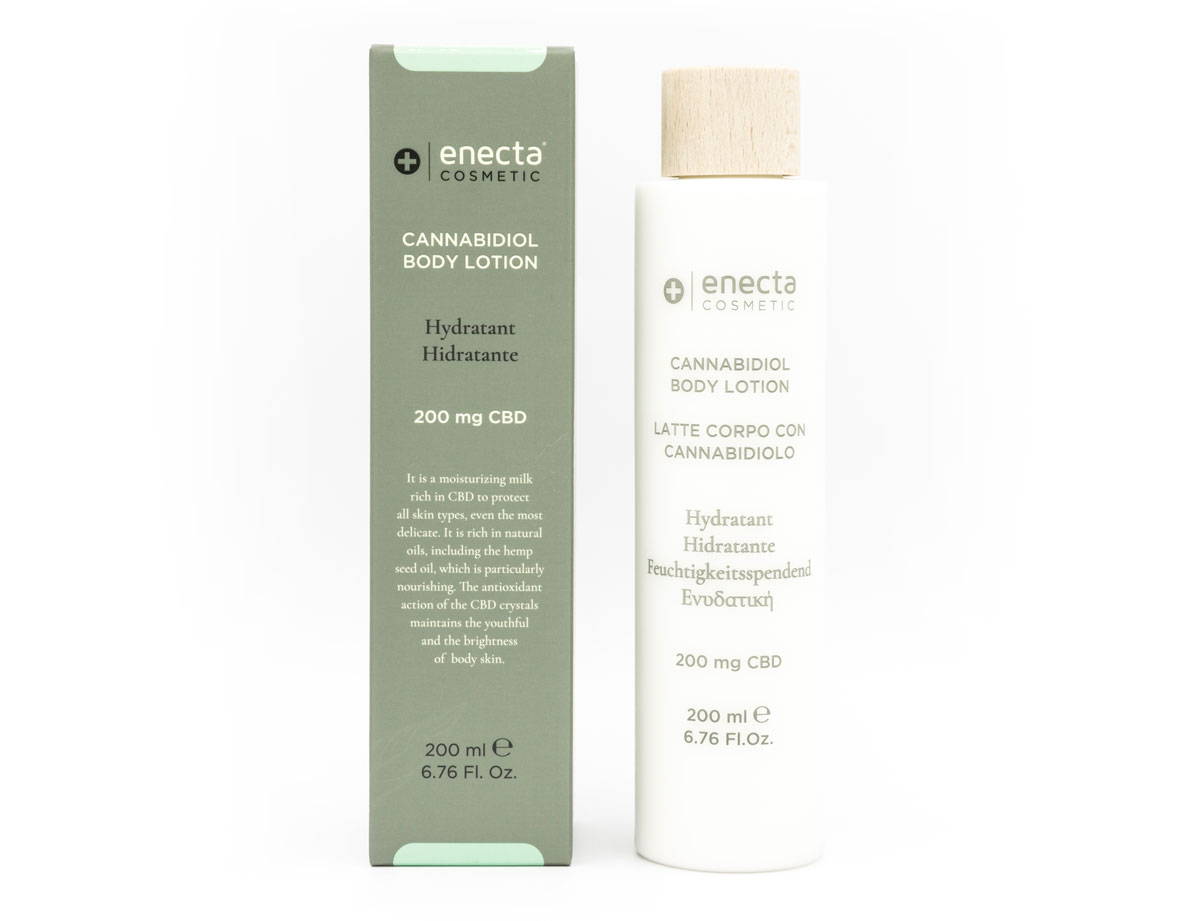 Body lotion with 200 mg of CBD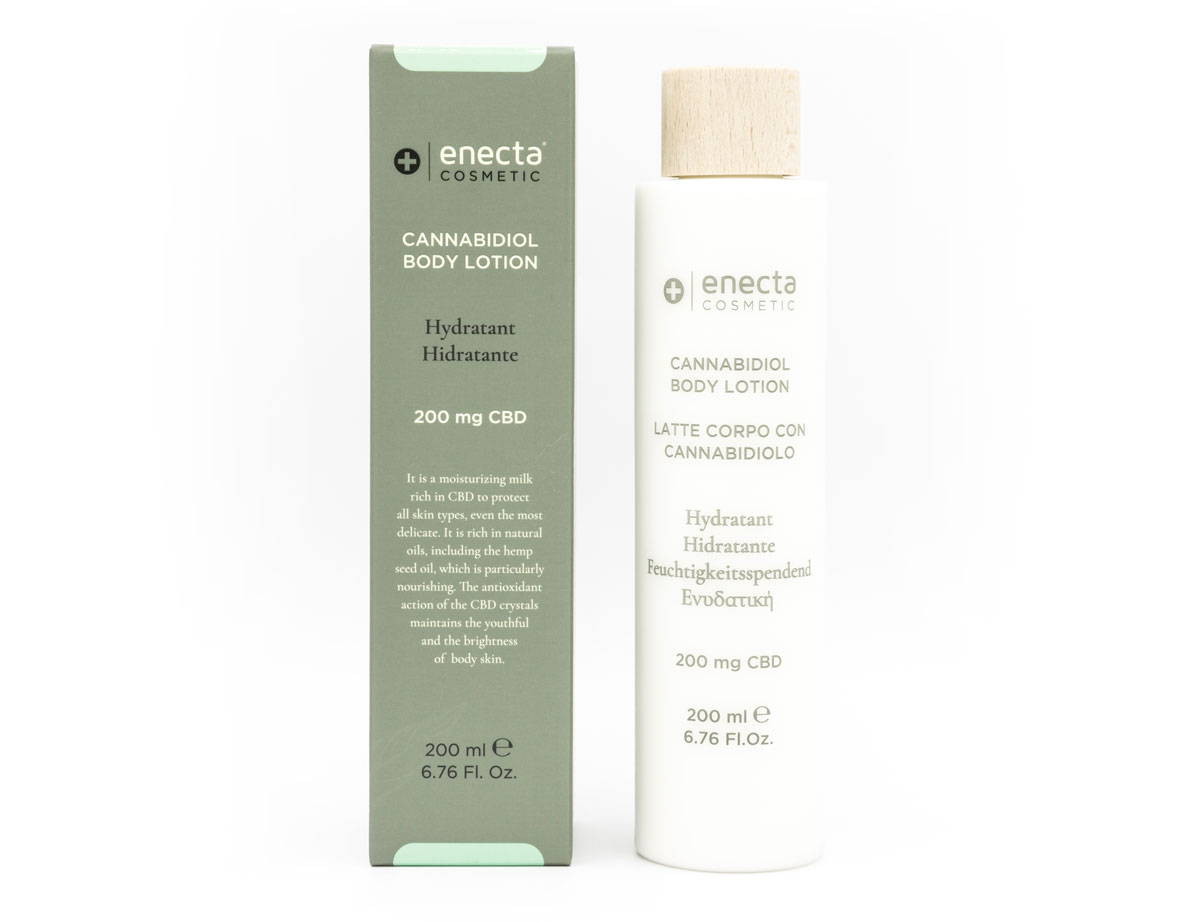 A moisturizing CBD-based lotion with a light texture, to soothe and protect even the most delicate skin. Rich in natural hemp seed oil, for an intense nourishing effect.

---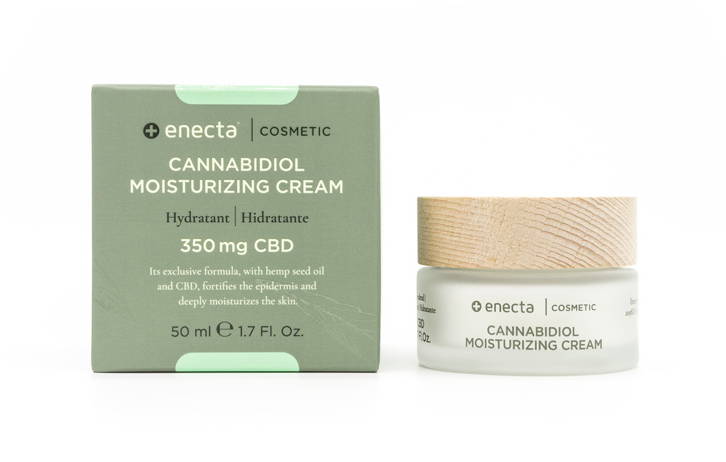 Moisturizing cream with 350 mg of CBD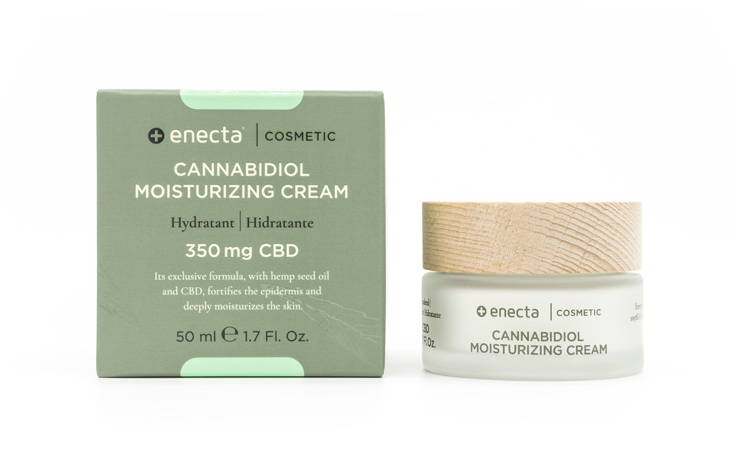 Its exclusive hemp seed oil and CBD formula strengthens and deeply moisturizes the skin.

---
Removes impurities and protects PH balance
Face and neck cleanser with 200 mg of CBD
A formulation designed to gently cleanse even the most sensitive skins or those suffering from acne. Its CBD acts as a sebum regulator while the hemp seed oil hydrates, protects and respects the skin's PH
balance.

---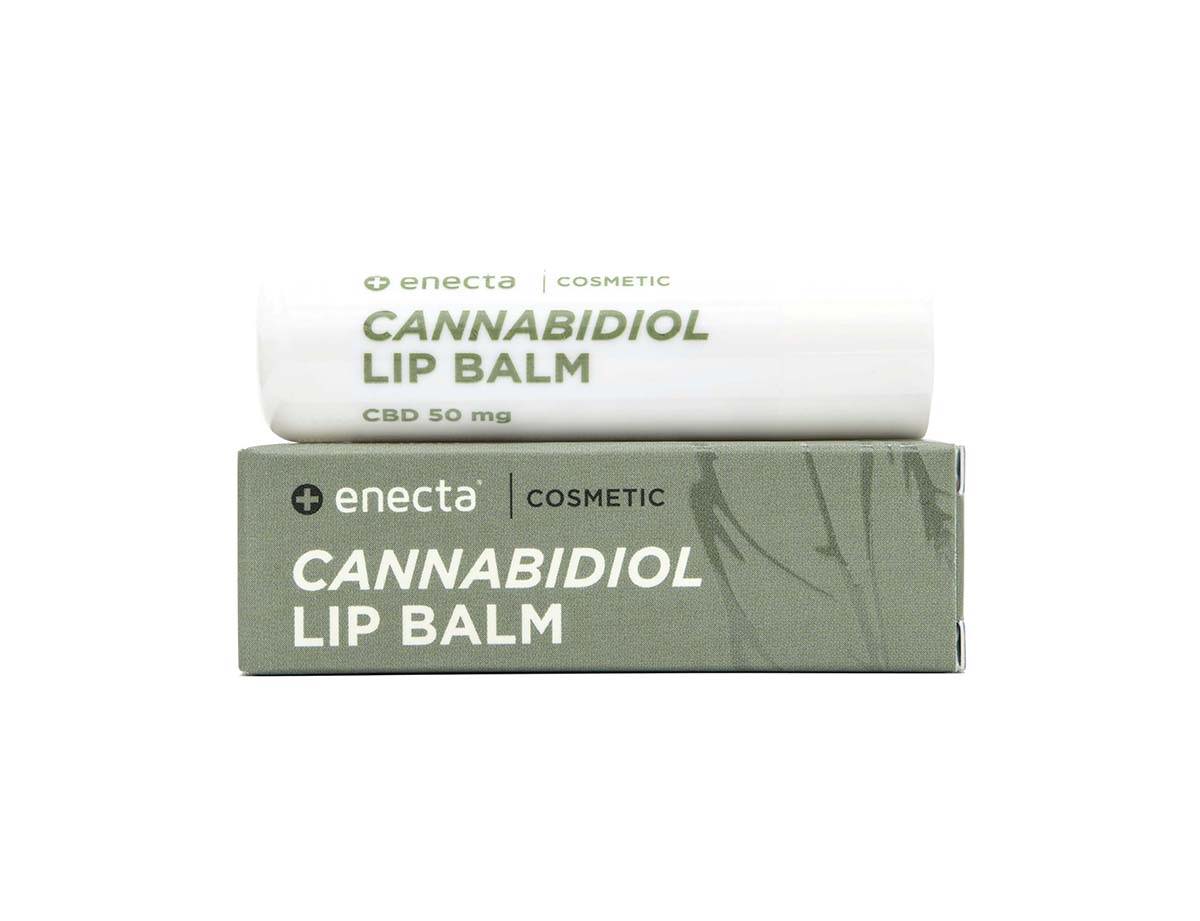 A product for all seasons
Lip balm with 50 mg of CBD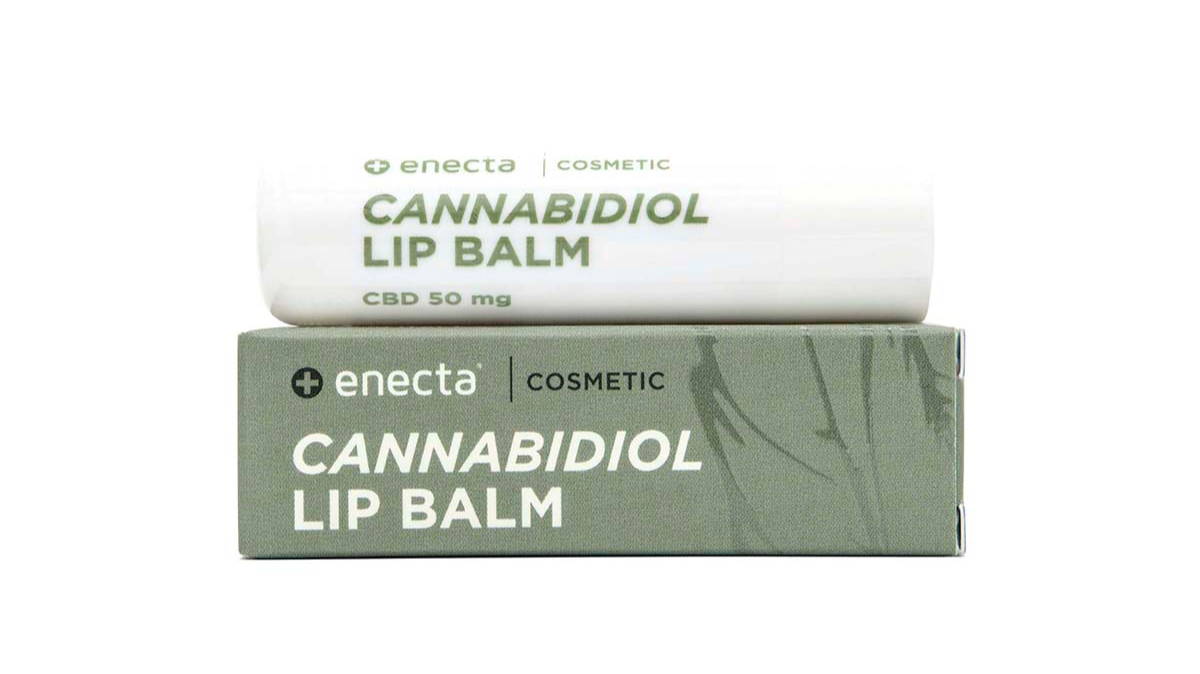 Enecta's CBD lip balm will protect you through all seasons and temperatures. Thanks to its base of oils, waxes and antioxidants such as Cannabidiol and tocopherols, this rich lip balm heals, seals and preserves your lips, creating a protective film that prevents infections. It can be used throughout the day, alone or as a hydrating base before your lipstick to prolong its hold.
Enecta's CBD lip balm is a smooth softener that soothes sore and inflamed lips. It is not oily and has a neutral fragrance, equally appealing and beneficial to men and women.
---
Enecta: quality and safety made in Italy
Enecta is a leader in Cannabis extracts for the therapeutic market and only uses the highest quality ingredients, all Made in Italy.
---
References:
[1]: Hampson AJ, Grimaldi M, Axelrod J, Wink D. Cannabidiol and (-) Delta9-tetrahydrocannabinol are neuroprotective antioxidants. Proc Natl Acad Sci USA. 1998; 95:8268-8273. [2]: Birò T, et al. The endocannabinoid system of the skin in health and disease: novel perspectives and therapeutic opportunities. Trends Pharmacol Sci. 2009; 30(8):411-420. doi: 10.1016/j.tips.2009.05.004. [3]: Kupczyk P, Reich A, Szepietowski JC. Cannabinoid system in the skin – a possible target for future therapies in dermatology. Exp Dermatol. 2009; 18(8):669-679. doi: 10.1111/j.1600-0625.2009.00923.x. [4]: Attila Olàh.1 Balàzs I. Tòth et al. Cannabidiol exerts sebostatic and antiinflammatory effects on human sebocytes. J Clin Invest. 2014 Sep 2; 124(9): 3713-3724.